Mesmerizing people at the foot hills of Zabarwan Mountain Range In Srinagar. The Asia's largest tulip Garden is must to see tour destination in the heart of Srinagar city during Kashmir Tulip Festival.
Kashmir valley is known for its amazing natural beauty and it has many meadows and valleys to mesmerize anyone. Blessed by God with tremendous potential for tourism in Kashmir valley and Srinagar city in particular is one the best tour destinations in India.
About Sinagar Tulip Garden | How To Reach | Kashmir Tulip Festival | Places Around | Kashmir Tulip Garden Tours
The city of Srinagar has remained a darling to most of the rulers of this heavenly valley of Kashmir. Being the center of the attraction and the capital city of Jammu and Kashmir state this city has many famous tourist attractions to visit.
The Tulip Garden is the modern era edition to this beautiful city and in a very short span of time it has become one of the best tourist attraction in Srinagar
Indira Gandhi Memorial Tulip Garden.
Earlier known as Siraj Bagh or Model Folriculture Center The Tulip Garden In Srinagar is named after former prime minister of India Indira Gandhi (Indira Gandhi Memorial Tulip Garden).
Over looking the world famous Dal Lake in the foot hills of Zabarwan mountains, Srinagar tulip garden is located at distance of 8Kms from Lal Chowk (The Main City Center) of Srinagar, 18 kms from Srinagar International Airport and 17 kms from Srinagar Railway Station.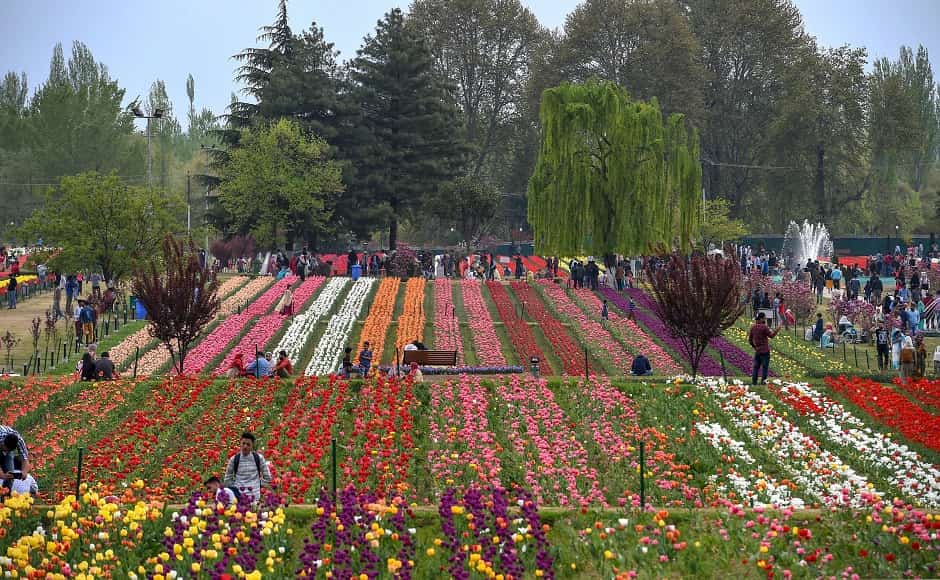 Spread across about 30 hectors the garden is the largest Tulip garden in Asia. Blooming with more than 1.5 million tulips of about 48 varieties. The Tulip garden in Srinagar also hosts many other species of flowers like ranunculus, hyacinths and daffodils and a very rare tree called Tulip Tree which also blooms at the same time.
Tulips are considered most delicate and sensitive flowers and can grow in a perticular climatic conditions. The climate of Kashmir valley in the end of March is perfect for these flowers to bloom and they are among the first blooming flowers in the Valley.
It was inaugurated by then Chief Minister of the Jammu and Kashmir state Ghulam Nabi Azad in 2007 the tulip garden was built to promote tourism and floriculture in Kashmir valley.
This seven terraced garden will be having a water channel and more green areas to let the visitors relish their best memories in garden.
The garden has many sections and each section is designed by gardeners to make it unique. Every section hosts different varieties of Tulips like strong gold, margaritas, candela, kung fu, early harvest, ile de france, etc.
Asia's largest tulip garden has been equipped with many other modern day facilities like Free WiFi, Fountains, Washrooms, Open-air Cafeteria, Decorated stalls and kiosks.
How to Reach Srinagar Tulip Garden
Kashmir Tulip Garden is located at distance of 18kms from Srinagar International Airport, 17kms from Srinagar Railway Station and 8Kms from Lal Chowk (The Main City Center) of Srinagar,.
Regular Bus service is available on the route from Lal Chowk Srinagar at a fare of Rs. 10 per passenger.
The nearest bus stop is on the Boulevard road near Cheshma Shahi crossing at a walking distance of about 900mts from the Tulip Garden.
Srinagar Car Rental Service or tourist cabs for Tulip Garden Tour can be booked from Indeed Holidays at very affordable prices
Shared taxi can be also hired from Lal Chowk or Dal Gate to reach the nearest bus stop on Boulevard road. Shared taxi cost per passenger from Lal Chowk is Rs.30 and from Dal Gate is Rs. 20 per passenger.
Opening hours: The garden remains open from 7:00am to 7:30pm 7 days a week. Entry Fee is Rs.50 per adult Rs.25 Per Child. Most of the people visit garden between 01:00pm to 06:00pm. Tulip Garden in Srinagar Kashmir is scheduled to be opened for public from 20th March.
Bollywood is also in love with Kashmir and Srinagar Tulip Garden. Salman Khan has shot his movie Bajrangi Bhaijan in Kashmir. John Abraham starrer 'RAW', Manmarziyaan which featured Abhishek Bachan were also shot in the Valley.
A number of films have been shot in the state in the resent past including Neeraj Pandey's Aiyaary (starring Sidharth Malhotra, Manoj Bajpayee, and Rakul Preet Singh), Meghna Gulzar's Raazi (with Alia Bhatt and Vicky Kaushal in the lead), to Divya Dutta-starrer Gul Makai (based on the young Pakistani activist and Nobel Peace Prize-winner Malala Yousafzai), to Imtiaz Ali's brother Sajid Ali's Laila Majnu, with newcomers Avinash Tiwary and Deepthi.
Kashmir Tulip Festival
Govt of Jammu and Kashmir organizes Kashmir Tulip festival every year to celebrate the onset of tourism season in Kashmir in the month of April as part of Bahaar-e-Kashmir event in Srinagar.
This festival is intended to bring more tourists to valley of Kashmir and many programmes like cultural events , music shows, food festival and travel agents conferences are organized by the government during this period.
You can book a Kashmir Tulip Garden Tour from Indeed Holidays Srinagar to be a part of Kashmir Tulip Festival, Srinagar Tulip Garden is scheduled to be opened for public from 20th Mach. Kashmir Tulip Festival is celebrated every year in the month of april.
Every year tulip garden is opened for public in the month of March when the tulips start to bloom in the garden. The Garden remains open till end of April and then its closed for public. According to commissioner/secretary of the Floriculture department Sheikh Fayaz because of comparatively better weather this season, the tulip garden is to be be thrown open earlier than usual this year.
The best time to visit Srinagar Tulip Garden and see the tulips in full bloom is from 1st to 3rd week of April. In 2019 2.59 Lakh people visited this garden including foreign and domestic tourists. Which generated a revenue of Rs 58 lakh for the department of Tourism Govt.of Jammu and Kashmir.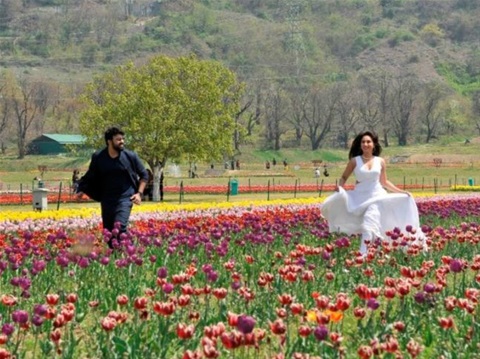 Kashmir Tulip Festival is celebrated for 20 days with the largest bloom of tulips and other flowers in the Garden. If the climate remains cool below 20 degree centigrade the festival is extended accordingly.
Attractions Around Srinagar Tulip Garden:
There are many other tourist attractions in close vicinity to the famous tulip garden in Srinagar that you can visit on your tour to Siraj Bagh.
Botanical Garden: Jawahar Lal Memorial Botanical Garden spread over 197 acres this garden was built in 1969 in memory of Indian prime minister Jawahar lal Nehru is the closet attraction to tulip garden Srinagar. In fact the two garden share same peripheral wall. Hosting a variety of about 150,00 ornamental plants and a huge collection of oak varieties. It also has a rare collection of Kashmiri tropical plants.
Cheshma Shahi: A ruminant of the Mughal period cheshma Shahi meaning Royal Springs is small and charming. It was laid out by the Mughal Governor Ali Mardan Khan for Emperor Shah Jahan. 2.2 Kms away Cheashm Shahi is at five minute drive from Tulip Garden Srinagar. Shah Jahan built a pavilion and laid out the Mughal garden in three terraces, each above the other by 18 feet. Cheshma Shahi is famous for the pure and refreshing spring that flows from it.
Pari Mahal: Another Mughal period ruminant Pari Mahal ( the Palace of Farris) is 3.8 Kms from Siraj Bagh on the same Cheshma Shahi Road. Its a seven terraced garden over looking Dal Lake and Srinagar City.
Royal Springs Golf Course: 2.7 kms from IGM Tulip Garden Royal Springs Golf Course on Boulevard Road was designed American golfer Robert Trent Jones Jr. This Golf course is the No.1 golf course in India. With all modern golf course amenities. Royal Springs Golf course is also considered to be the most picturesque Golf course in Asia.
Nishat Bagh: 3.3 Kms away on Boulevard road is another famous tourist attraction Nishat Bagh. In 1633 it was built by Asif Khan, elder brother of Nur Jehan wife of Mughal empror Shah Jehan. Meaning the Garden of Gladness this terraced garden commands a magnificent view of the lake beneath the snow-capped Pir Panjal mountain range that stands far away to the west of the valley.
Shalimar Bagh: Meaning "abode of love." Mughal Emperor Jahangir built this gardens in 1619, it was a gift for his wife, Nor Jahan. At 12 min drive just 6.2kms on boulevard road is one of the largest Mughal gardens of Kashmir valley Shalimar Bagh. This beautiful garden, covering a prime 31-acre (12.4-hectare) area on the eastern banks of Kashmir's Dal Lake, is a must to visit place in Srinagar.
Zabarwan Park: At 4kms on return drive of 6min from Tulip garden is latest built Zabarwan Park. The park is good to eat place closet to Nehru park Srinagar with you can enjoy Kashmiri folk music here performed live by folk singers of Kashmir in evening, besides that park has a 3d cinema Hall Ample parking and many other amenities. you can visit the park on return from other tourist attraction on boulevard road.
Besides these popular places there are other places adjacent o IGM Tulip garden Srinagar Like The Lalit Grand Place Hotel, Hotel Vivanta By Taj, Private Golf Course, Apple Orchards, Handicrafts Showroom, Shanker Acharay Temple, Nun Kun Park, Nehru Park, Foreshore Road, Harwan garden, Dachi Gam national Park and off course Char Chinari in Dal Lake.
Get Free Quotes
Best Travel Agents
Our tour planners would love to help you create a customized Package
What You Get?
Packages From Professional Travel Agents
24X7 Support
Best Price Guaranteed
Multiple Free Quotes
Fully Customized
Descriptive Itineraries
Multiple Price Selection
Fill You Requirements
Related Tours
Kashmir Tulip Garden Tour Packages
Indeed Holidays provides special tulip festival tour packages in Srinagar Kashmir, If you intend to visit Srinagar Tulip Garden in 2023 for Kashmir tulip festival, You can book customized trip packages from Indeed holidays specially designed for Kashmir tulip festival 2023. Our packages include all the popular tour places around Tulip garden Srinagar Like Mughal Gardens, Cheshama Shahi, Dal lake, Shanker Acharaya Temple, HazratBal Shrine etc besides that you will also visit Srinagar city, Gulmarg, Pahalgam and Sonmarg etc.our packages are ready to be customized by expert tour planners to suit any budget any holiday plan. Bring you family & friends for a Tulip Treat in 2023 and we will make it memorable trip for you.
Srinagar- Gulmarg - Pahalgam - Sonmarg - Srinagar

Inquire Now

Srinagar- Gulmarg - Pahalgam - Sonmarg - Srinagar

Inquire Now

Srinagar- Gulmarg - Pahalgam - Sonmarg - Srinagar

Inquire Now
Customised Tours
Create your own holiday tour plan
Personalized Holiday Packages
Inquire --> Customize --> Book
1
2
3
WhatsApp Support
Your favourite mode of communiaction
Holiday Packages on WhatsApp
24x7 WhatsApp Support