Best Seasons To Visit Kashmir
Popularly known as the "Paradise On Earth" Kashmir is a heaven for travelers in India. Its the northern most state of India situated in the lap of Himalayas. Kashmir is a very popular tour destination for Families, couples/Honeymooners, adventurers and pilgrims for Vaishno Devi and Amarnath. There are many beautiful tour destination that one can visit in Kashmir.
Kashmir valley has four distinct season and every season is beautiful in its own way. The four seasons are Summer from June to August, Autumn From September to November, Winter from December to February and Spring from March to May.
Whatever season you choose to visit Kashmir you will have to keep the climate of the valley in mind, before packing your stuff. Like any other tour destination Kashmir also has its peak season and off-season. You can see the variations in the hotel rates and flight fares accordingly.
Spring | Summer | Autumn | Winter | Best Time To Visit
For honeymooners and families mid summer through autumn is considered to be the best time to visit Kashmir for a honeymoon trip or family holiday. You can visit this amazingly beautiful place From May onward till September. July to September is also the wedding season in Kashmir and is considered to be the best time for new bonds. This season is also known as the season of romance in Kashmir.
In this season the gardens are blooming, Orchards are full of delicious fruits, the streams are filled with water from melting snow and glaciers in upper reaches and weather is very pleasant wherever you go.
Here is the minimum and maximum temperature of different place of Kashmir in Summer.
Summer: June July August
Summer is the peak season for tourism in Kashmir, full of hustle and bustle wherever you will go, you will see tourists from all over globe in Kashmir. The season is of three months June July August. During this period the weather remains very pleasant throughout, The temperature ranges between 16°C to 29°C. All the gardens and parks are blooming with endless varieties of flowers, particularly the Mughal Gardens in Srinagar which is must to visit place at this time. You can visit all popular tour places of Kashmir during this season like Srinagar, Gulmarg, Pahalgam and Sonmarg. Hotels and houseboats in Kashmir remain fully packed during this time, So you must make your bookings in advance if you plan to visit Kashmir in summer season. The annual Amarnath Yatra is also performed during this time. Summer in Kashmir is also the best time for high altitude trekking. Many locals and trekkers from India and abroad come for trekking in Kashmir during this time. One of the popular treks that is conducted during this season is The Great Lakes Trek. Also known as Kashmir Alpine Lakes Trek. If you are interested in seeing apple orchards full of juicy red apples visit Kashmir between June to August. Later in August Apple fruit picking in orchards is another activity that you can witness in Kashmir. River Rafting, Horse Riding, Fishing, Hot-Air Ballooning, Outdoor Camping are some of the common activities for tourists in summers in Kashmir.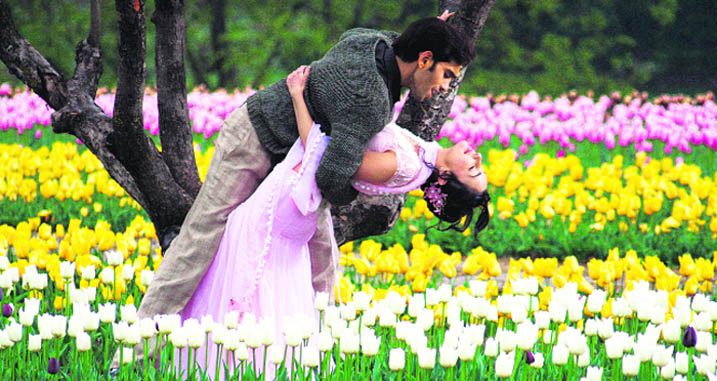 Must See Places In Summer in Kashmir: Mount Afarwat, Betaab Valley, Sahlimar Garden, Cheshma Shahi Garden, Thajwas Glacier, Gulmarg Biosphere, Nigeen Lake, Floating Vegetable market in Dal Lake.
Best time to visit for: Honeymoons, Family trips, Trekking Tours, Blooming Gadrens, Apple Orchards, Dal lake Nigeen Lake, Amarnath Yatra, Vaishno Devi, Aru valley, Betaab valley Pahalgam, Affarwat Gulmarg, Tajwas Sonmarg.
Autumn: September October November
Autumn is the season that can bring out the hidden poet inside you. Its also known as the golden season of Kashmir. The trees turn yellow and golden brown in this season. Many people prefer to visit Kashmir during this time. Particularly the foreigners and the Intellectuals class. This time is also good for honeymooners as the mild day temperatures and colder night temperatures play a big role in staying together. The famous Chinar tree has got its name in this season as the Persian word Chi-nar means "Like Fire". The Chinar leafs turn Golden yellow during this season. The tree looks like a ball of fire so the name Chi-Naar. Naseem Bagh in Srinagar is a famous place to visit at this time in Kashmir. The autumn season is also known as the season of poetry and nostalgia. This season favors the bookworm kind of people or those who are in creative writing or pursuing some higher studies and want to stay in calm atmosphere. This time is also known as photographers heaven, full of eye catching colors, autumn is a delight for the lens. Durring this time you can visit saffron fields in Pampore. The saffron fields in Pampore are in full bloom during this season. Migratory birds in huge numbers arrive at valley wetlands during at this time. These birds fly in from Siberia and China, as also the Philippines, Eastern Europe and Japan. One of the major sites to witness theses birds near Srinagar is Hokar Sar and Wular Lake. Valley of Kashmir receives major rainfall during this season and sometimes it creates flood like situation. Kashmir does not have a monsoon season as the monsoon clouds can only reach up-to Jammu division. However in this season due to western disturbance rainfall is expected at all places from August to October. So if you are planning to visit Kashmir in Autumn do pack some woolens and some waterproof clothing and shoes.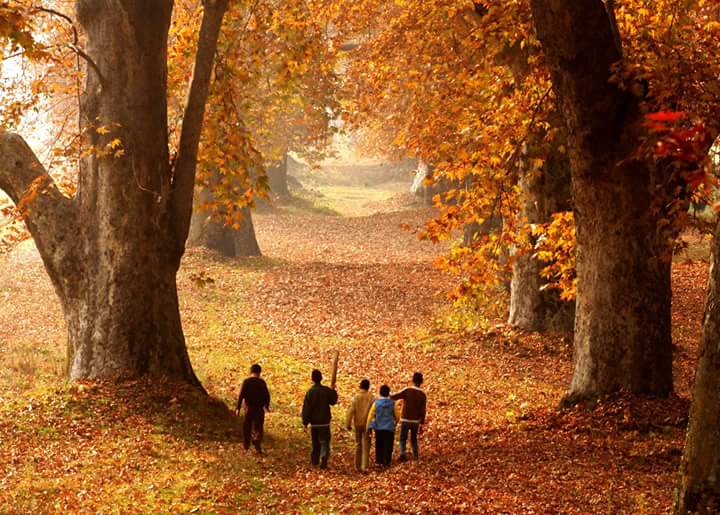 Must see places during autumn in Kashmir: Naseem Bagh, Shalimar Bagh, Dachigam, Safron Fields In Pampore, Hokar Sar, Srinagar Golf Course, Residency Road Srinagar, Drang Water Fall, Pahalgam Village Life, Apple Orchards.
Best Time To Visit For: Honeymoon, Holidays, Photography Tours, Cultural Tours, Business Tours, Destination Weddings. Apple Picking
Winter December January February
Snow the word in itself is a temptation for those who live in coastal or hot regions and for Kashmir its a blessing. Every year Kashmir witnesses snow fall in December January February. In lower areas like cities and towns the snow fall can be between 3 inches to 24 Inches but on higher reaches and villages the snow fall can range between 2 feet to 12 feet. December January February is the winter season in Kashmir which begins from November onward. Temperatures start to dip with every passing day you can have bright sunny days but the winds are cold. The temperatures can dip up-to -10°C at some places. Usually you will witness lesser flow of tourists in Kashmir during this time. Winter is also the off season for tourism in Kashmir. Hotels and flights are cheaper than summers and you can get good deals on your holidays during this season. After the snowfall the valley of Kashmir is covered with the blanket of white snow all over, temperatures dip, Kangri's (Kashmiri Fire Pot) are out to keep Kashmiri people warm. Kangri an indigenous invention of kashmiri people to keep themselves warm during cold winter months. Kangri is a portable fire pot, an earthen pot covered with wicker from out side with burning coals inside it. Kashmiri people carry this fire pot under their winter attire called PHERAN. Pheran is an extra-large woolen gown which covers whole body except feet and head. If you want to witness Snowfall 24 Dec to 15 Jan is the best time to visit Kashmir. In winters Gulmarg remains a popular place for tourists due to its proximity to Srinagar and adventure sports activities, like Skiing, Snowboarding, and ice hockey. Gulmarg is one of the best ski resorts in Asia and has Asia's highest cable car called Gulmarg Gondola. Gulmarg Gondola is a must to experience activity in Winters in Kashmir.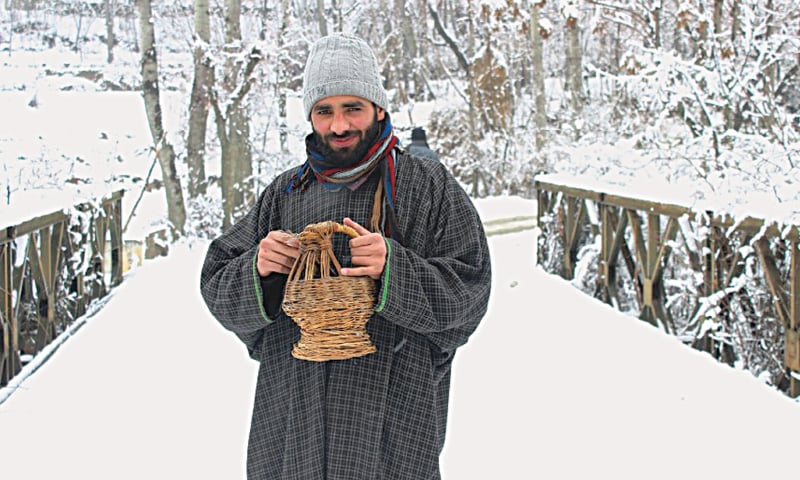 Must see places during winters in Kashmir: Frozen Dal Lake, Gulmarg Gondola, Handicraft Centers, Drang Tangmarg, Wular Lake, Hokar Sar, Jehlum Bund Srinagar, Boulevard Road, Shanker Acharaya, Hari Parbhat Forte.
Best Time To Visit For: Snowfall, Skiing, Snowboarding, Frozen Lake View, Handicraft Shopping.
Spring: March April May
Spring season begins in March in Kashmir Valley. The weather starts to improve the temperatures start to rise gradually and Snow in lower areas starts to melt. March April May In Kashmir is the season when tulips start to bloom in Tulip garden Srinagar. The Siraj Bagh garden is opened for tourists in the month of April. So If you want to see the tulips bloom 3rd week of April to 2nd week of May is the best time to visit Tulip garden in Kashmir. Another attraction that is must see place in Srinagar in Spring is Badaam Wari. An orchard of Almond trees looks amazingly beautiful during Almond and cherry blossom. People who don't want to face the harsh winter but want to enjoy snow, visit Kashmir during this period as in Spring the higher reaches remain to be covered under snow and one can enjoy it in Gulmarg, Pahalgam and Sonmarg. In Spring most of the people book their summer tours for Kashmir for families and Honeymoon. The agriculture activity starts in Kashmir during this season, Almond, Apricot and Cherry trees start to blossom, The paddy fields are blooming with mustered flowers. The weather is mostly pleasant but you need to keep summer cool clothing with you. Sleeve less jackets and sweaters are mostly used in this season.
Places to visit during spring in Kashmir: Badaam Wari, Tulip Garden, Dachigam, Koil Pulwama, Hokar Sar, Aru Valley Pahalgam, Sonmarg. Gulmarg, Drang, Wular Lake, YousMarg
Best Time To Visit For: Snow, Cherry Blossom, Almond Blossom, Bird Migration, Flowing Streams, Tulip Festival
What is The best time to visit Kashmir?
All in all Kashmir is four season destination it only depends on what kind of climate, weather and activities you prefer on a holiday. Going by the tourism trends in Kashmir, most of the travelers prefer to visit Kashmir in warm weather, that is from mid of March to end of September. The peak months for tourism are May June July & August. However to enjoy snowfall in valley 3rd week of December to 1st week of January is the best time to visit Kashmir. You can visit in spring season between March to May and can still enjoy Snow in Gulmarg and Sonmarg. Kashmir is an soothing experience for the eyes and the soul of a nature lover, no matter what season which month you choose, you will love the way Kashmir presents itself. Many people in India visit Kashmir as it is the cheapest tour destination in India. You can enjoy a Kashmir tour in just Rs.6000 per person. Local tour operators offer good deals throughout the year.
For couples on honeymoon in Kashmir there are specifically designed holiday packages. Tours which include all the popular tour destinations and romantic activities at very affordable prices. Indeed holidays also offer Kashmir tour packages for couples at very reasonable prices. Kashmir honeymoon packages from Indeed Holidays include 3 Star hotel accommodation at all places, a night Stay in Deluxe houseboat in Dal Lake or Nigeen lake, Tour to Gulmarg, Pahalgam and Sonmarg. Tour also includes AC cab for All transfers, free airport pickup and drop facility, daily breakfast and dinner on MAP plan. besides other services and freebies.
We hope that this article will help you to choose the best season and month to visit Kashmir. The real paradise on earth, and once you are here you will also say
"Gar Firdous Bar-roue Zammen Ast, Hamin Asto Hamin Asto Hamin Ast"
"If there is paradise on earth Its here Its here Its here"
Get Free Quotes
Best Travel Agents
Our tour planners would love to help you create a customized Package
What You Get?
Packages From Professional Travel Agents
24X7 Support
Best Price Guaranteed
Multiple Free Quotes
Fully Customized
Descriptive Itineraries
Multiple Price Selection
Fill You Requirements
Customised Tours
Create your own holiday tour plan
Personalized Holiday Packages
Inquire --> Customize --> Book
1
2
3
WhatsApp Support
Your favourite mode of communiaction
Holiday Packages on WhatsApp
24x7 WhatsApp Support